Biblical Archaeology:
Does God have a Wife?
---
About 50 km south of Kadesh Barnea is Kuntilet 'Ajrud a caravan outpost that was excavated by the University of Tel Aviv in 1975-1976. The remains date to the first half of the eighth century. The paintings and inscriptions on two large storage jars called pithoi, have caused a sensation in the scholarly world (Keel and Uehlinger, 1998, p. 210).
On one side of Pithos A or 1 there is a picture of a tree with branches of lotus blossoms. On each side of the tree is an ibex. Underneath is a lion. The tree probably represents the tree of life.
On the other side of Pithos 1 is a picture of a cow with her calf, a male and female standing with cow-like faces, and a seated female playing a lyre. Over their heads is a Hebrew inscription that says, "Utterance of Ashyaw the king: Say to Yehallel and to Yaw'asah and to ...: I bless you by Yahweh of Samaria and his asherah" (Context Of Scripture (COS) edited by William Hallo 2.47A, 171). The picture of the male and female seems to represent Yahweh and his wife. See Hosea 8:6 who condemns the calf of Samaria. Ashyaw the king is Joash of Israel (802-787 BC). In the Bible Asherah is referred to as a goddess, but more often it is a wooded cultic object. Below is my poor drawing of them.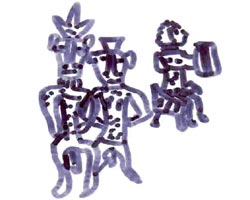 For a better drawing see Gods, Goddesses and Images of God in Ancient Israel by Keel and Uehlinger, 1998, p. 213.
It seems that the Northern kingdom of Israel pictured God as a bull who had a wife. The prophets condemn Israel for its paganism (See Hosea 8:5-14).
---